SIDE-BY-SIDE COURSES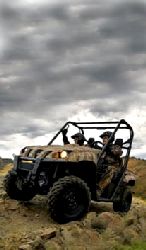 This course provides general safety, operation, inspection and maintenance practices for UTV's , MUV's, Side by Side use. Upon successful completion individuals will receive an Canada Safety Council Certificate. This course does not cover ARGO use, a separate course is required for ARGO operation.
Definition: UTV: Utility Terrain Vehicle, MUV: Multi Use Vehicle

SIDE BY SIDE COURSE DESCRIPTION

The Side by Side Operators is a one-day program designed to train the operator in the safe and efficient use of an UTV vehicle. The course includes both classroom and practical training, with the greatest emphasis on operational skills. The Side by Side student courses are nationally recognized program developed by the Canada Safety Council, for the benefit of both industrial and recreational UTV operators.
You will be registered with the Canada Safety Council and receive your certificate and registration number. Topics included operator responsibilities, safety equipment, inspection and maintenance. So, not only will you enjoy the day, but you will build confidence in your own riding ability and the ability to handle your machine.
UTV and MUV & Side by Side course identifies the responsibilities of the operator as governed by the Alberta Government Occupational Health and Safety Code (Part 19), Traffic Safety Act, Off-Highway Vehicle Regulation. Completion of this course has become mandatory in many major companies for employees and sub-contracted personnel who use an Side by Side on the job site

CONTENT

Learn the basic maintenance and useful tips for your Side by Side including Personal Protective Equipment (PPE)
Learn to recognize hazards and reduce risks when riding.
Provincial / Municipal road requirements along with Traffic Safety Act Laws
Open discussion
Safe riding practices and strategies, pre-ride inspections, traversing, turns, loading and transporting, carrying heavy loads.
The lessons include starting and stopping, quick turns, hill riding, emergency stopping and swerving, and riding over obstacles, winching, loading & unloading.

PROGRAM LENGTH

Hours in Class: 8 approx (outdoors instruction).
Class Size: max 8 per day.
Certification: 3 years from date of issue.

TARGET GROUP / PARTICIPANTS:
Oil and gas employees, foresters, emergency medical technicians, adventure travel companies, seismic and survey crews, ranchers, police and recreational users. Which means our instructors can bring the course to you and your site.

DATES
Edmonton courses are offered once a week all year round (or as weather dictates). You also have choices to pick another date or location within Alberta or Western Canada. If there is date you wish give us a call. Short notice courses can usually be arranged.

EQUIPMENT/LODGING, ETC.
We have limited Side by Sides, we have helmets, gloves, goggles, etc all available upon request. Hotels, meals, etc can also be arranged. We train on all UTV's, i.e.: Honda, Can Am, John Deere, Kubota, Club Car, Polaris including the new ACE.